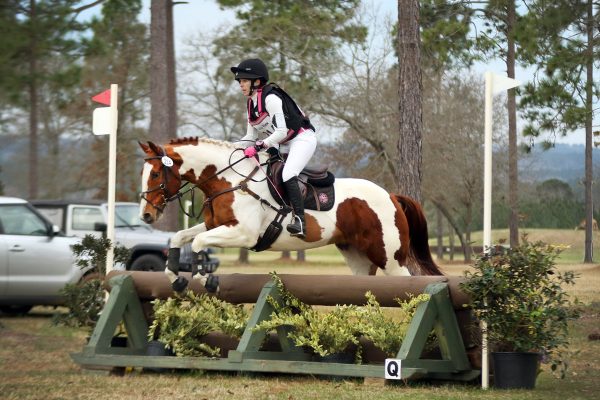 I basically disappeared in December. We did our last event on December 1st, JJ had off the 2nd and 3rd to rest, and we had a lesson on the 4th. Then, from the 5th-8th, I was away at a trade show for work. From the 9th-14th, I was away for vacation. On the 15th, I was away at a wedding. There was general laziness for the next few days, and then I apparently was on Santa's naughty list because I got the worst flu ever on Christmas and spent a full week doing absolutely nothing except being miserable and making noises like a dying cow. Needless to say, I did not ride. JJ, meanwhile, very much enjoyed his "winter vacation" and was annoyed when zombie mom was resurrected from the dead ready to get to work.
Like many good New Years Resolution-ers, I made the commitment to get JJ (and me) "back in the gym" with gusto. He (we) had gotten fat during our downtime, and I knew we both needed to up our fitness levels to survive our next event – a USEA recognized Novice in Aiken, SC.
I rode literally every single day from January 1st until our event yesterday (except for Monday, when our barn is closed) and it really paid off! We did light jump schools to keep his brain intact, hill work, trot/canter sets, some flatting, and just general moving around, and JJ was feeling a million times fitter by the time we shipped out early on Friday morning.
Side note and shameless plug: I Black Friday-bought myself an embroidery machine, so a few days before we left I was feeling fancy and slapped Ride Heels Down and Have A Great Ride logos on all my saddle pads to prep for the event. ;) If anyone wants one embroidered with your own colors, you can get one here.
Anyway. We had been planning to go cross country schooling locally the week before the event, but it hasn't stopped raining and that was cancelled – good thing, too, because when I got to the barn that morning, I found JJ had pulled a shoe loose.
We hauled four hours to Aiken, SC on Friday for a schooling session at The Vista instead. Their facility is absolutely AMAZING, and I had the pleasure of meeting manager Brooke Webb who was super sweet. We had a great time popping some Novice fences to prep and answering a few Training questions for funsies.
After schooling, we headed over to Terrybrooke Farm which was to be our stabling for the night and dropped off the River Birch Farm horses. We hustled over to Stable View to walk our cross country and stadium courses, then went back to Terrybrooke to feed, enjoyed a fun team dinner, and headed to the hotel to (try and) sleep… which did not happen.
My brain: Hey, what about the thing?
Me: No, I've already thought about the thing. We're good.
My brain: …BUT WHAT ABOUT IT?
I woke up groggy on Saturday and headed over to hitch up my trailer, grab JJ, and get to Stable View. It was literally FREEZING (seriously, temps in the 20*s and 30*s all day and overcast) and it was miserable, but I hoped the cold would give him some extra energy. To stay busy (and hopefully warm) I started grooming for dressage early. As I was picking his feet – surprise – I noticed something was missing… a shoe! The same one he had loosened the week before! UGH! So, we marched right over to the show farrier (shout out to Chris McElyea of Fox Run Farrier Service for being there for us in our time of need… LOL) and got JJ all fixed up.
Back in the game, we saddled up and walked over to dressage. It was our usual: gorgeous, soft, and relaxed in warm up but a fussy disaster once we stepped foot inside the 20×40. Le sigh. The judge, Kate Hutchings, was super generous, though, and her scores/comments were all very kind – it was much appreciated. We received a 36.70 for our efforts.
Over at stadium, JJ was more relaxed than usual during warm-up. He felt sluggish and super chill, despite everything going on around us. We hopped over a few things, he seemed to be listening, and that was that. We went in to Stable View's big arena, and despite all of the things to look at, JJ didn't feel like he was distracted or looky at all but he didn't quite feel like himself – there just wasn't any gas in the tank and I'm not really sure how to ride that version of him yet. So, it was not our best work and we had a rail. I was upset that I rode like crap, because I had wanted to do well for my coach, Lauren Turner.
Putting the poor performance behind us, we went straight from stadium to cross country. I arrived with only four minutes until my start time, popped a couple solids to let JJ know what we were about to do, and trotted over to the start box. We left with a leisurely canter so someone got a cowboy kick over the first jump, but after that it was smooth sailing.
For the first time in our history of eventing together, there were no arguments over pace. There were no questions about any of the fences. JJ had a lovely extended canter the whole time, said "sure thing, mom" to every question, and the whole course actually felt quite effortless, despite how wide most of the jumps were.
Our only issue was at the water complex… When we school, JJ likes to grab a drink and I hate denying him if he's thirsty. So, as we came in to the water, JJ tried to stop and take a sip! I started kicking and yelling "no, go!!" and all I got from him was a mediocre trot and confusion about why I was suddenly bitching at him. Our next fence was two strides out of the water and we had to take it at a medium trot as a result, but JJ did his job and got over it like it was nothing.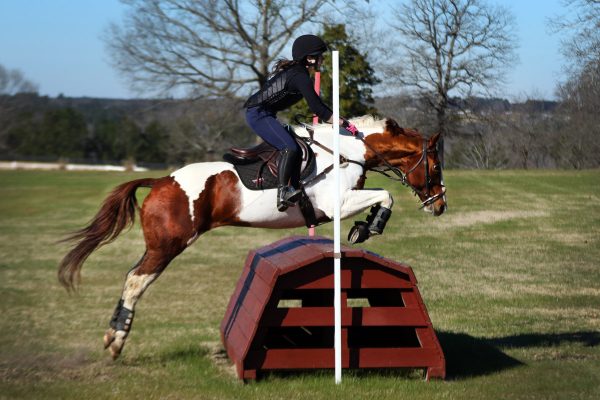 Overall, it was a really great weekend. We haven't run a full Novice 3-phase since March, and this was our first USEA recognized, so I was really happy that we got through it AND that it was actually pretty easy. Ultimately, we finished 9th of 16.
I'd be lying if I said I wasn't bummed that we went home without a ribbon, but we definitely didn't leave empty handed – we successfully completed our first USEA recognized Novice 3-phase event with a happy rider and a sound horse!
---
LESSON LEARNED
Check for shoes after running XC!! Also, it might not be a good idea to let your horse think it's okay to drink the water complex… heh.
---
RESULTS
Date: January 12, 2019
Location: Stable View in Aiken, SC
Division: Novice 3-Phase
Type: USEA Recognized Event
Final Score: 40.70
Result: 9th