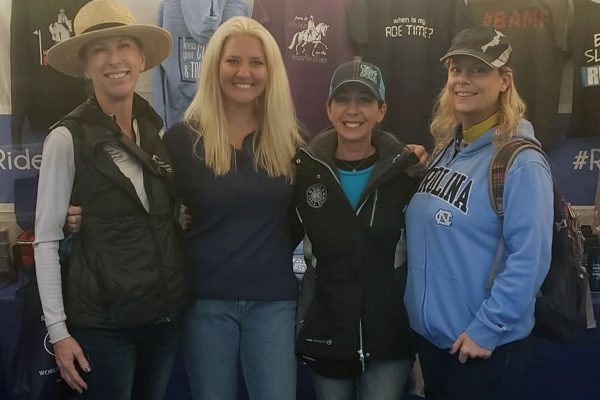 If you've never seen Steve Harvey's video "Jump" do yourself a favor and take 5 minutes to watch this.
After the Land Rover Kentucky 3-Day Event didn't run in 2020 due to Covid-19 and it ran without spectators in 2021, I wondered if I would be able to make it back to the Kentucky Horse Park for 2022's event with Ride Heels Down.
After all of the recent life changes I'd been through, I wasn't sure how I was going to make it happen, but I knew I wanted to… especially since I had been vending there since 2017. I missed my people.
I started trying to plan for the event a few months before. I booked my hotels and looked for a truck or cargo van to rent to be able to get my inventory up to Kentucky. However, with the market the way that it is, prices were crazy on rentals and I couldn't swing it.
The weeks were flying by and I had no idea how I was going to make it happen. February turned into March and that rolled into April, and I finally accepted that it wasn't going to come together for me. I begrudgingly made my peace with the fact I wouldn't go, I'd lose the money I spent on buying a booth (purchased back in 2019 after that year's event) and that I was going to miss out on The Best Weekend All Year. Bummer, but, I figured it wasn't meant to be. I let go.
Then, fatefully, I wound up purchasing a friend's 2012 Chevrolet Tahoe as an early birthday present to myself (let's be real, it's actually for JJ so I can take him on fun trailer trips) and realized that was why none of the rentals had panned out – the Universe had been saving something even better for me.
So, just two weeks before the LRK3DE, it all quickly clicked into place and I knew I would be able to go after all! Yay! Er… wait…
Problem was… I was going by myself. I didn't have anyone to help me load, set up, or sell. I'd be completely alone in the booth – not too bad until you start thinking about basic logistics like getting food and bathroom breaks! But, I would bring snacks and worry about the latter when the time came… for now, I would simply focus on the next immediate step in the process: getting there.
The Thursday-Sunday prior to the event, I had to road trip to North Carolina for my day job in drag racing. Weekends at the track are always long and exhausting, and I got back to my place in Augusta, Georgia, at about midnight on Sunday. I woke up early on Monday, quickly unpacked from racing and re-packed for riding, then figured out how to fit my entire booth in the back of my new truck. Thankfully, I am very good at Tetris and got it all in! ;)
Tuesday I made the 7-hour drive up to Lexington, checked into my hotel, and wound up having a great dinner with one of my local racecar friends, Jacob. It was the perfect low-key start to the week.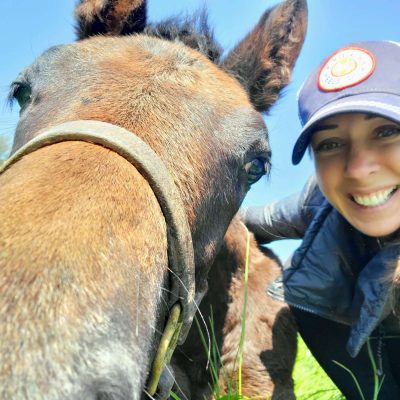 My load-in and setup were scheduled for 1:00 pm on Wednesday, but I got a neat surprise that morning. Another racecar friend, Mark, told me that the farm where his Thoroughbreds are foaled (yeah, he does both types of racing!) was just a few minutes away from where I was staying and he invited me over for a tour.
So, Mark coordinated with the farm manager, Diana, and I got to enjoy playtime with the new babies. It was a pretty awesome way to start my day, to be completely honest, and I even got to meet an incredibly rare set of twins!
After, I had lunch at the Windy Corner Market and headed over to the Horse Park to unload. Considering I was doing all the work myself, it went pretty quick and was easier than I expected. I even snagged the help of my next-door vendor neighbors at Neighborly Tack to help open my 10'x15′ tent which would have been impossible on my own. Fun fact: turns out, the man who helped me, Pat, is actually the uncle of yet another of my racecar friends – what a small world!
Jacob generously offered to take me to dinner again that night, and I was thankful both for the downtime and the company after a long day of heavy lifting. Back at the hotel that evening, I showered, hopped into bed, and felt ready to take on the world.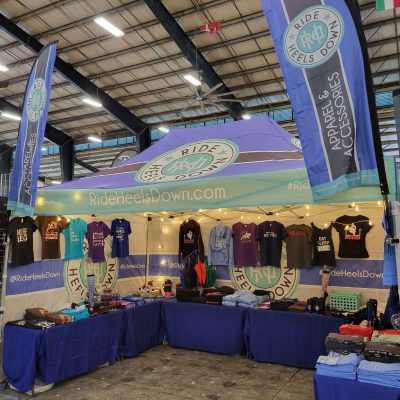 The event itself, which ran from Thursday through Sunday, went well without any major hiccups. The event itself, though, isn't the point of this blog post – the point is how beyond grateful I am for how many of my amazing friends rallied around me to make things easier for me.
I'm so blessed to have so many wonderful people that want to see me succeed and do whatever they can to make it happen.
I wasn't sure how I was going to get through the event all by myself, but I "jumped" and took the risk of going even with all of the uncertainties – and my friends were there to catch me, without me ever even having to ask.
All throughout the event, friends were stopping by to say hello, to check on me, to take care of me, and to help however they could. It was fantastic seeing all my old friends and meeting new ones. I appreciate everyone who took the time to come by the booth!
So, although I'm sure I'm going to accidentally miss someone, I want to say thank you to everyone who shared a smile with me this year.
– Thank you to Amber for selling me her Tahoe so I could make the trip in the first place.
– Thank you to Jacob for good company and conversation over our meals. He even came out to the event on Saturday to check it out!
– Thank you to Mark and Diana for the once-in-a-lifetime farm tour.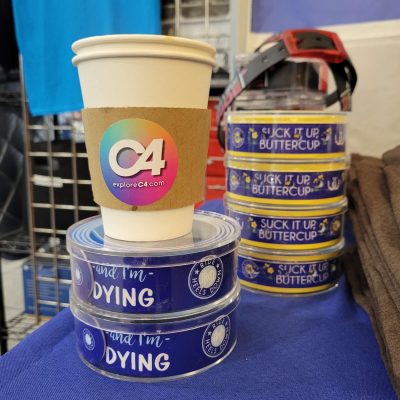 – Thank you to my sweet friend Mary at Mare Goods for sharing her hot spot with me so I could get my day job work requirements done in the morning and for letting me borrow her string lights to brighten up my booth.
– Thank you to David at C4 Belts for bringing me coffee and mimosas, and for making sure I had lunch every day – much appreciated!!
– Thank you to Sarah (star of the Eyes Up, Heels Down t-shirt) and Wendy (JJ's former momma) for a super fun dinner on Thursday.
– Thank you to equestrian author Tudor Robins who let me have the honor of selling some of her books in my booth.
– Thank you to Katie at Triple Crown Feed for the best chapstick ever, a critical thing when you're talking nonstop all day!
– Thank you to Keegan for bringing me goodies, including some tasty chocolates – yum!
– Thank you to my old friend Kristina and my new friend Rebecca for the thoughtful pep talks.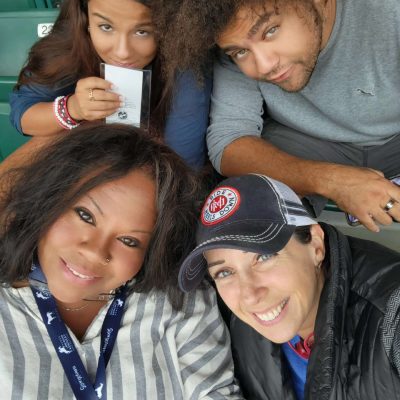 – Thank you to my dear customer-turned-friend, Chandra, and her two incredible kids, Tori and Andrew, who made it their mission to make my week as easy as possible.
Chandra showed me so much love by checking on me to make sure I was fed and watered (like a horse, haha) and sharing laughs on Friday night while we watched show jumping and later when we went out for dinner at a Thai restaurant.
Chandra also surprised me with lots of special goodies like chocolate-covered strawberries (my fav!! how did she know?!) and a massage pillow with a hilarious inside joke.
The three of them even insisted on helping me pack up my entire booth on Sunday evening and then helped me load my truck – they went absolutely above and beyond and I am eternally grateful.
Thank you to EVERYONE who shared their love and kindness with me throughout the week. (And, thank you to everyone who asked about JJ and how he was doing! That meant a lot.) It wouldn't have been possible without all y'all. THIS is why I call it Ride Heels Down's "Family of Friends!"
It truly warmed my heart and made me realize that, even though I usually feel like I am, I am most certainly NOT alone.
I went into this year's LRK3DE not knowing if I would even go, or how I would be able to make it happen, but I have my people and they take great care of me and all of the little pieces came together to form a big success.
---
LESSON LEARNED
Let go.
Let it happen.
Let the people who care about you take care of you.
You might be surprised by how well it all works out…