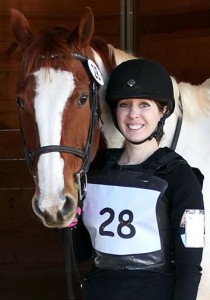 Ride Heels Down was created by riders, for riders. We love our horses just as much as you do, and wanted to be able to show the world that we are proud equestrians by wearing fun, cool apparel. We are eventers, jumpers, dressage riders, trail enthusiasts, reiners… if it involves horses, you can bet we love it!
We take a lot of care in choosing what apparel we carry, and select shirts that are comfortable, flattering, and durable. We only sell stuff we'd be proud to wear at the barn or hanging out.
Thanks for shopping with Ride Heels Down, and we hope to see you again soon! :)
-Ainsley Jacobs & JJ Spot
---
Ainsley Jacobs – RHD Founder
Ainsley has loved horses ever since she was a little girl. She began riding on Long Island when she was 8 years old and focused mostly on huntseat equitation. She spent many years volunteering at local barns, teaching lessons, pushing trails, and managing summer camps to earn more time in the saddle. Ainsley attended college in Philadelphia, and was a part of the Drexel University Equestrian Team which competed in the IHSA series. After graduation, she moved to Atlanta and began riding at Go With It Farm. In 2014, Ainsley decided to try eventing, and she's been addicted ever since! Her first event was at the Tadpole level, and Ainsley currently competes in the Novice 3-phase with JJ Spot, a wonderful 15.3hh APHA gelding who she purchased (her first horse! OMG!) on February 16, 2016. :)
---
Stephanie Ray – Featured Artist
Stephanie creates the wonderful holiday ornaments and fun magnets that are featured on our site! Her mother was a rider and an artist, and that's where Stephanie's love for both came from. Stephanie rode her reining horse when she was young, but didn't start formal English lessons until she was an adult. Riding is the passion that inspires her art!