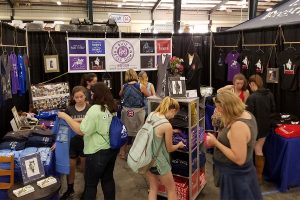 REPUBLISHED FROM OUR FRIENDS AT THE UNITED STATES EVENTING ASSOCIATION.
As a sport, eventing is inherently competitive. Riders compete against other riders on the hunt for wins, qualifying scores, and upgrade points while simultaneously competing against themselves as they work towards improved dressage scores and cleaner jump rounds. When it comes to business, though, eventers-turned-entrepreneurs Ainsley Jacobs of Ride Heels Down and Mary Campbell of Mare Modern Goods are proving that community is stronger than competition and their brands are better together.
Both ladies grew up outside of Georgia – Ainsley in New York and Mary in Louisiana – but settled in Atlanta as adults and their lives took somewhat similar paths. Both are lifelong equestrians who initially started in the hunter/jumper world, and both were actively riding at local stables with eventing trainers. Having never crossed paths, though, the two strangers ironically started similar businesses around the same times.
Ainsley's Ride Heels Down eventing-focused apparel company was inspired by a quick reminder to herself to trust her horse and to put her "heels down and hold on" as she approached a fence that was a little larger than she was comfortable with in late September of 2014. Thinking that the mantra could make an interesting t-shirt, she finished the rest of the jump course and got to work planning out her new venture which was officially launched on September 1, 2015.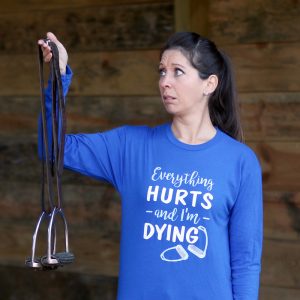 Her business was well-received by the local Georgia eventing community and Ainsley's initial idea soon grew to include a full line of fun apparel with a unique eventing twist. She went from attending local events with a little pop-up tent to displaying at the Kentucky Three-Day Event for the first time in 2017. Now, Ride Heels Down offers tons of great t-shirts, sweatshirts, hats, jump marker flag earrings, an exclusive "Have A Great Ride" collection, and so much more.
Mary launched Mare Modern Goods in September of 2017, although the idea for the business dates back many years prior. Born from her love of horses, her desire to share stories of the amazing ability of horses to change our lives for the better, and an interest in designing products that reflect her love of horses, Mary noticed a gap in the market for such a brand and decided to quit her full-time job and start Mare Modern Goods.
A creative director and fine artist by day, Mary put her skills to work developing fresh, modern illustrations and patterns for her products and developed a wonderful line of gift and lifestyle items that includes tote bags, tees, jewelry, greeting cards, and her signature Mindfilly Bands.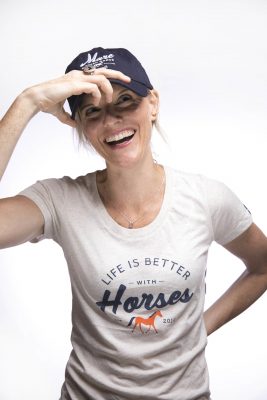 At the time, Mary had been riding with a coach, Miriam Offermanns, at a boarding barn north of Atlanta. Ainsley's event horse, JJ, had been recovering from a pasture injury and, when she decided to move him to a new barn, she called Miriam – her friend of over a decade. Ainsley moved JJ to Miriam's place, and once he was cleared for regular training again, Ainsley and Mary ended up riding in the same lesson group together.
The two women quickly hit it off and realized they had a lot in common, including fears and goals related to both riding and to business. Even more surprising was the fact that they both had regular "day jobs" in the marketing industry, although both are working to make their entrepreneurial endeavors their sole focus.
Despite being in the same segment (of equestrian apparel and accessories) Ainsley and Mary chose to see each other as friends instead of competitors. After each lesson, they would chat about life and business as they cooled their horses out. It became a regular occurrence for them to bounce ideas off one another, help come up with creative concepts, and discuss business planning and strategy.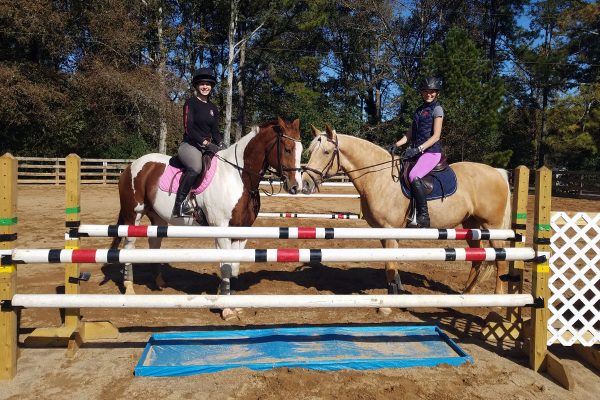 During those lessons, too, the ladies worked hard to encourage one another and celebrate each stride towards achieving a new goal, no matter how small. They find inspiration in each other, and genuinely love seeing the other do well.
And while they keep it (mostly) professional when it comes to their brands, the ladies are far from boring. There's profanity, there's sarcasm, there's tongue-in-cheek humor and spicy shenanigans. There's a lot of laughter, often at their own expense. There's failure, there's fun, and there's fabulousness. They're both bits of (wussy) daredevils at heart, too, so they push each other to be brave and have the confidence to chase their dreams – while also keeping each other grounded.
Eventually, Ainsley convinced Mary to go eventing for the first time – and she was–at first–terrified but has since become hooked! Now Mary and her current partner, Caliteros, are working towards their first Beginner Novice event while Ainsley and JJ are training for Training.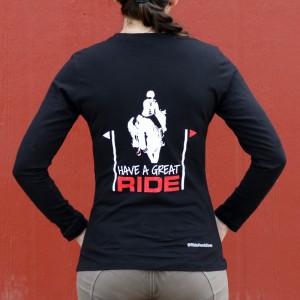 Even their horses are friends. When their farm owner noticed JJ and Cali standing at the gates of their neighboring pastures just staring at each other all day long, he decided to turn them out together… and now the two boys hang out all day living the good life.
It certainly hasn't been all sunshine and rainbows for Ainsley and Mary, though. They have their struggles with riding, just like anyone else (and they can definitely appreciate some appropriately-timed profanity during lessons!) and their small businesses are both not nearly as big as the ladies would like.
For Ainsley, it's been a challenge over the years as she was hoping for an initial instant success that she just didn't get. With such an abundance of advertising to compete with online and a limited budget, she struggled to get the Ride Heels Down name in front of the eventing community. As she works in a marketing role for her day job, it was easy for her to make Ride Heels Down appear like a successful brand online, but she admits sales are still slower than she would like – although that doesn't stop her from having fun and enjoying developing the company anyway.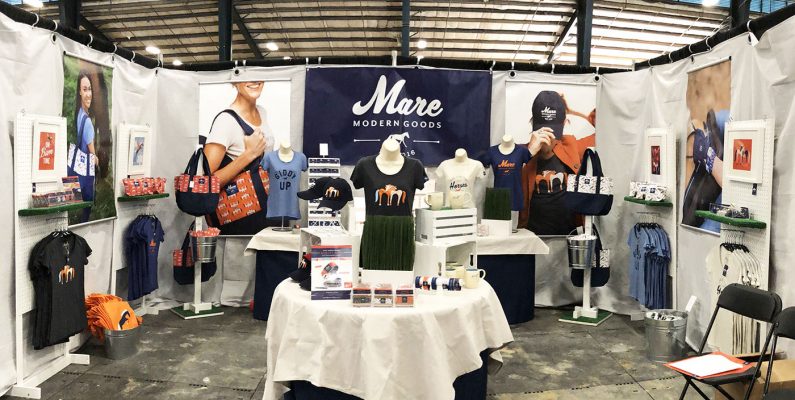 Mary, too, has grand goals for her business that are still works in progress. While the response to her products has been overwhelmingly positive, she is still searching for the sweet spot in the equestrian market. She's confident that she'll get there, is working creatively and strategically to make it happen, and is fully committed to her Mare Modern Goods brand. Her favorite part of her journey with this brand has been meeting all of the wonderful people in the equestrian community and the partnerships and relationships that have formed as a result.
With Ride Heels Down starting its fourth year in business and Mare Modern Goods heading into its second season, Ainsley and Mary are perfect examples of how to achieve more by working together. Business, like riding, can be filled with obstacles and challenges, but when you've got a great friend cheering you on and reminding you how awesome you are, succeeding becomes so much more fun.
To learn more about each business, please visit www.RideHeelsDown.com and www.MareGoods.com.
Are you an eventer-turned-entrepreneur using your skills outside the saddle to support your horse habit? We want to hear from you! Email your story to jduffy@useventing.com to be featured.