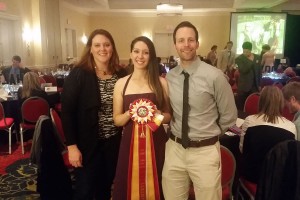 What a roller coaster of a year 2015 has been! JJ and I completed our first full year of eventing together, and we had some amazingly wonderful moments as well as some epic fails. Through it all, though, we both learned a ton, and were rewarded by the Georgia Dressage & Combined Training Association (GDCTA) for our efforts.
GDCTA's schooling show series year end awards are based off the average of each rider's three lowest qualifying scores. We started the year out a little rough as we were still figuring things out, but got progressively better towards the end of 2015.
The annual GDCTA Awards Gala is a celebration of its Georgia dressage riders and eventers. Accomplishments are recognized, achievements are rewarded, and friends get together for a great night remembering all of the successes and struggles throughout the year. I was extremely fortunate to have qualified for a year-end award after my first season of eventing, so there was no way I was going to miss out on the fun!
To show our support for GDCTA, Ride Heels Down donated a Heels Down, Leg On t-shirt to the silent auction! Lots of people bid on it, and I hope that the lucky winner loves their new shirt!
Joined by my wonderfully supportive husband, Erik, and my incredibly patient trainer, Halliea Milner of Go With It Farm as well as her husband, Ken, and their beautiful daughter, Sidnee, I had a great night of hanging out, eating (way too much) delicious buffet food, and making new friends.
When the awards presentation ceremony itself began, I was SO happy to celebrate in my friends' victories and cheer for them as they were called! Finally, it was time for my division – GDCTA Beginner Novice. My name was announced, and I happily walked across the stage during to collect my Reserve Champion ribbon – the physical representation of our inaugural eventing season.
To say I was proud would be an understatement, but it wasn't me that I was proud of, it was everyone else: JJ, for how hard he always tried to give me his best, even when he was nervous or unsure. Halliea, for always tolerating me even though sometimes (let's be real: it was more like "often" and not "sometimes") I was a total drama-queen. Erik, for encouraging me to pursue this dream and loving me through the good and bad. Okay, and I guess I was maybe a little proud of me, too, for not quitting when things got scary. ;)
---
LESSON LEARNED
Surround yourself with good, supportive people – you'll need 'em! When times are tough, it helps to have people who care about you to cheer you on, and when times are good, it's so much more fun to celebrate with loved ones!
---
RESULTS
Date: January 30, 2016
Location: Alpharetta, GA
Division: GDCTA Beginner Novice
Type: 2015 Overall Year End Awards
Final Score: 38.98
Result: 2nd
comments