REPUBLISHED FROM OUR FRIENDS AT THE UNITED STATES EVENTING ASSOCIATION.
I purchased my wonderful APHA gelding, JJ Spot, in February of 2016 when I was 31 years old – he was my first horse after a lifetime of riding and hoping for one of my own. JJ and I had been eventing together on a lease basis for two years prior and we had just made the move up to Novice, and I had so many plans for us once things had been made official.
Unfortunately, just five weeks after I signed the papers, JJ got caught up in a pasture accident and spent a year on stall rest recovering from a collateral ligament injury. Several months later, I was hurt in a car accident and also was put on "stall rest" while I went through surgery and physical therapy of my own.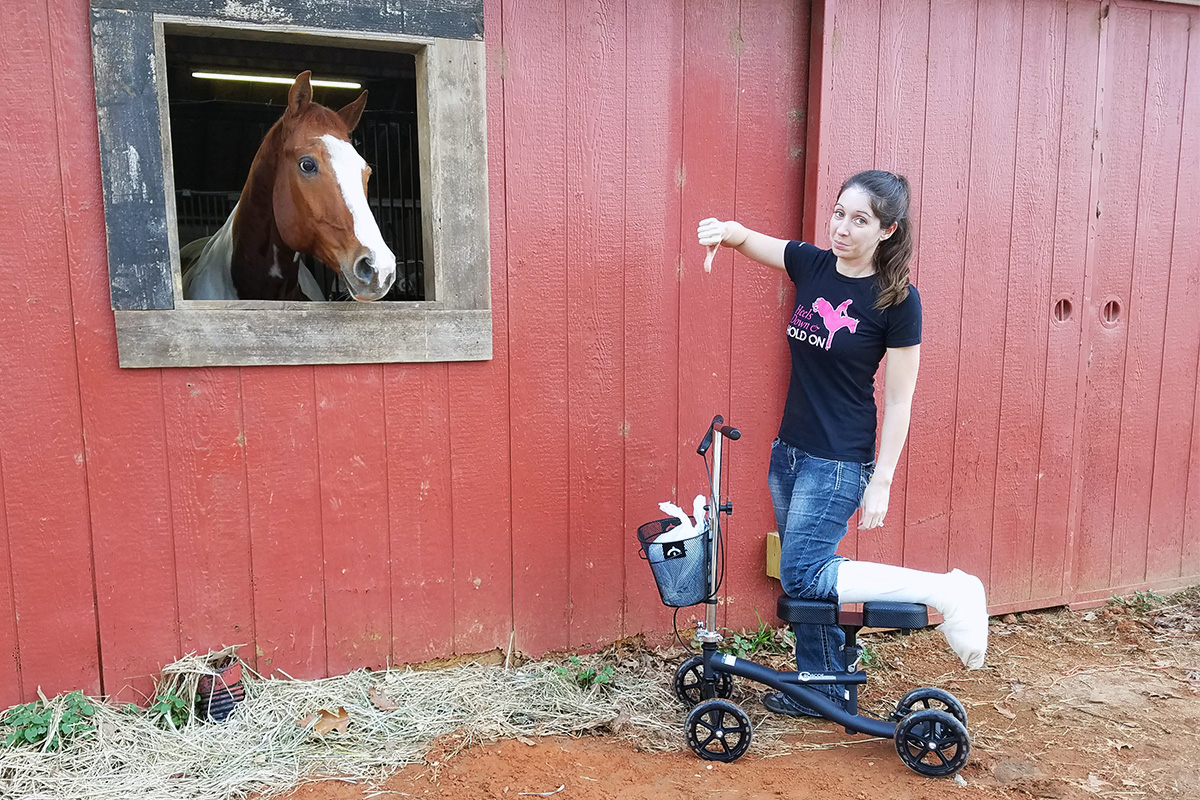 Eventually, JJ and I were both cleared to get back to work and we began our recovery together in the summer of 2017. It took some time for us to both rebuild the fitness we had lost, but we were able to attend a schooling show that fall to test the waters. I had been nervous because I wasn't sure if JJ would stay sound, but he cruised around a little Beginner Novice three-phase as a refresher and was a solid as a rock.
I had the opportunity to take JJ to Ocala in January of 2018, and, eager to make up for lost time, jumped at the chance. While we were there, we competed in a horse trials at Rocking Horse – just for fun – and wound up finishing third in Beginner Novice which means we had unintentionally qualified for the USEA Area III Championships – cool!
Back home in Atlanta, JJ and I continued to work on getting back to where we had been before our injuries. When summer arrived, we cruised around the Area III Championship courses at Chattahoochee Hills and, once again, finished third! I was thrilled with how well JJ was doing, and I knew that the placing had put us in the running for the AEC, but as it was in Colorado that year, I shrugged it off knowing we wouldn't make the haul.
We completed another horse trials later that summer and finished second with an upgrade to first after the amateur placings had been revised, and I told myself we were "done" with Beginner Novice. It was time to get back to Novice!
When it was announced that the 2019 USEA American Eventing Championships (AEC) was to be hosted at the Kentucky Horse Park, only six hours from us, I made it my goal to qualify and go at Novice. We have been working really hard: regular jump lessons, extra dressage lessons, clinics with top-level riders, etc.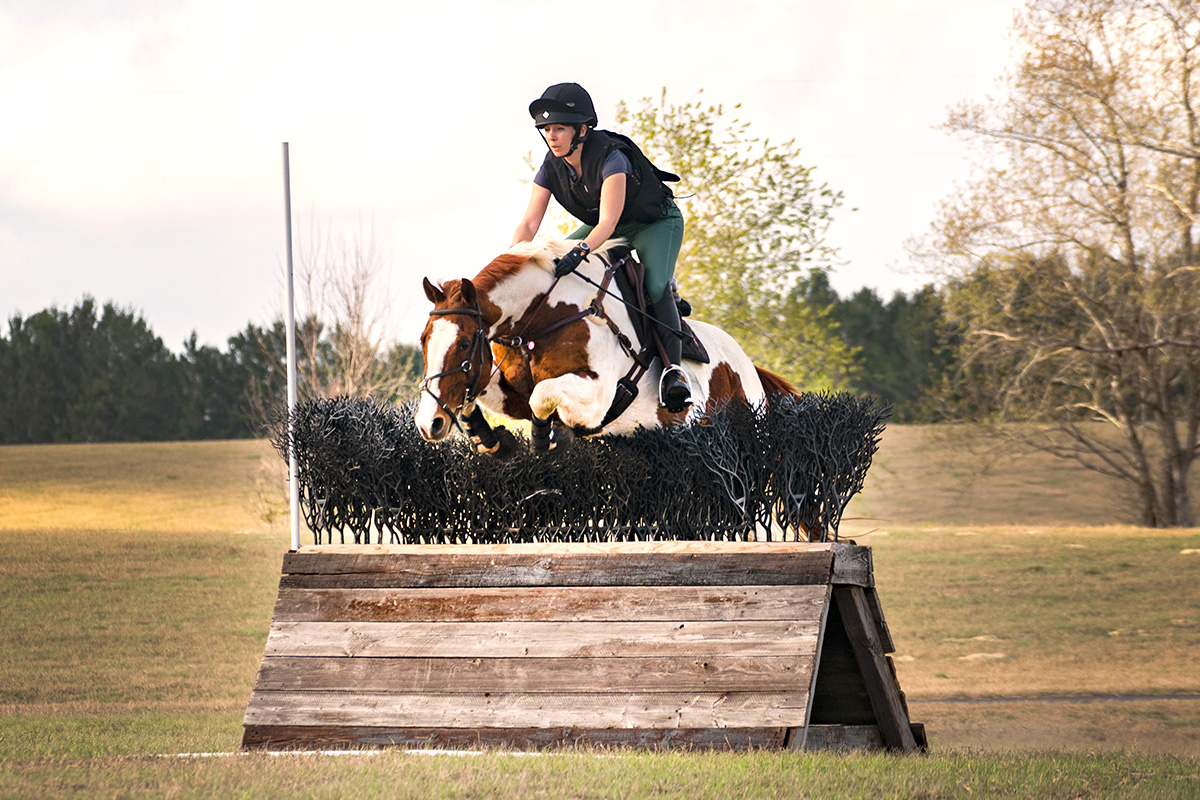 Five Novice level horse trials later, including the USEA Area III Championships again, and we still hadn't qualified. We had gotten the clear cross-country rounds done easily, but the placing requirements kept eluding us. I gave up. I decided it wasn't meant to be, and I couldn't keep throwing money at something that clearly wasn't happening. So, I decided I would go as a vendor instead with my business, Ride Heels Down.
Incredibly, two days after I decided to quit chasing my goal, one of my coach's other students happened to check the qualified riders list and found my name. I thought it was a typo at first and brushed it off, but she assured me we had qualified for the AEC after all – at Beginner Novice.
I had forgotten that the qualification period extended to the previous summer, and wasn't aware that the "three clear cross-country rounds" didn't have to be at the same level. Turns out, after we had done well at Beginner Novice in 2018, a Novice horse trials in January of 2019 gave us our third clear cross-country round and completed the requirements for the 2019 AEC.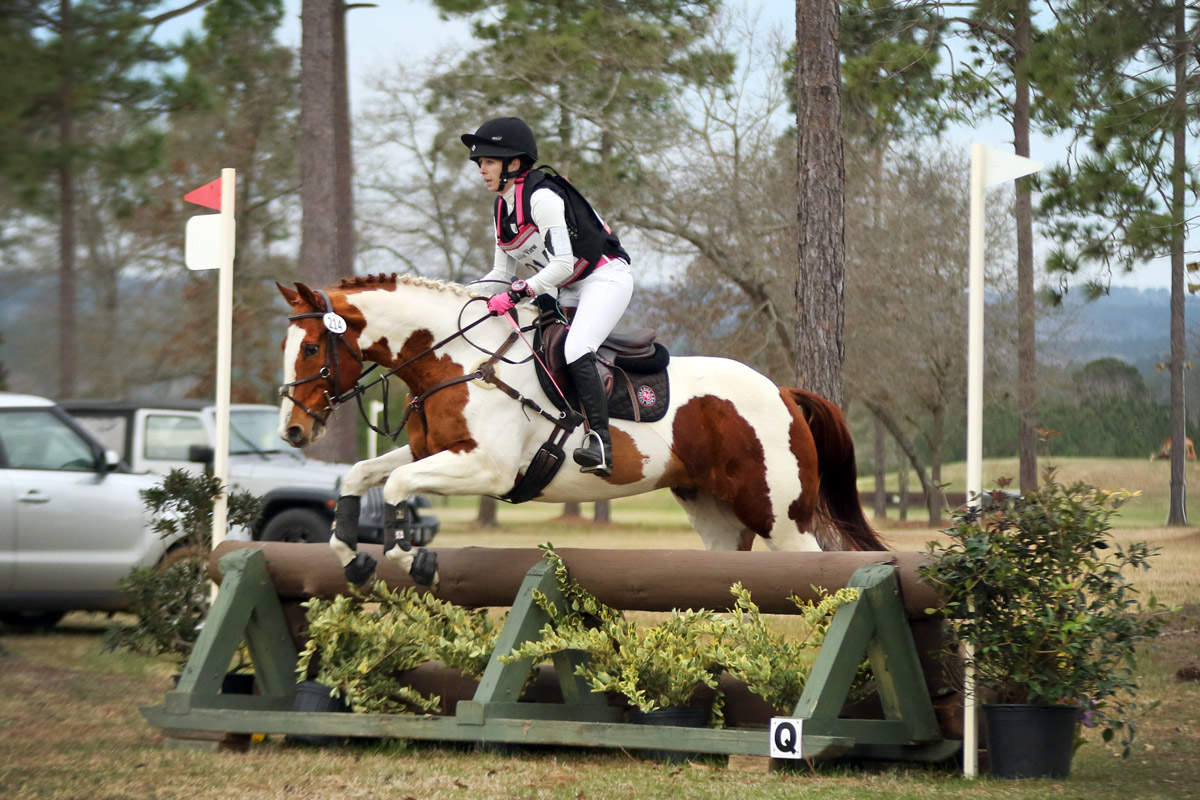 So, while I had been desperately chasing a qualifying dream at Novice for half of the year, it turns out we had already been qualified at Beginner Novice since January – and I had absolutely NO idea whatsoever.
Now I've got a revised plan: I'm still going as a vendor with Ride Heels Down (please come check out my booth, I'm also a Prize Level Sponsor of the AEC for the third year in a row!) but I am ALSO going to ride. Honestly, I'm not quite sure yet how I'm going to be able to make that work, but I'll figure it out.
Even though it's not Novice like I had hoped, I am still super excited to be able to share this experience with JJ and can't wait to get out there and do our best. We've come a long way, and our injuries have taught me to enjoy the present and make the most of the time we have together because tomorrow isn't ever guaranteed.