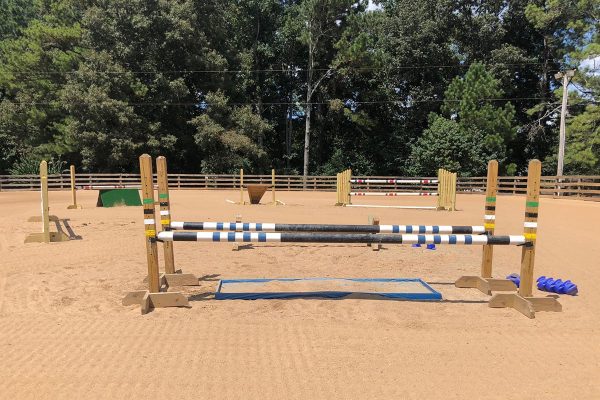 I'm happy to report that I've found a new trainer, and am now working with 1* rider Lauren Turner of River Birch Farm! Lauren is graciously coming out to Beaumont Farm (where I board JJ) to coach us and help us achieve our goal of moving up to Training.
No lie, during our first lesson with Lauren, I was a hot mess. I hadn't ridden in a week, JJ was spunky, and the side effects from my ant bite adventure had left me feeling disturbingly dizzy. Needless to say, I wasn't proud, but Lauren was kind enough not to judge, and our second lesson together was significantly improved.
For our third lesson, Lauren put together an exercise that simulated the relentless pace of XC combinations and focused on footwork.
There were three-stride bending lines to solids. There were skinnies. There was a cavalleti bounce to a somewhat wide square oxer with a liverpool and everything happened. So. FAST. There was no room to sit and think and prepare between jumps, it was a great test of teamwork and took a lot of cooperation to get through the challenging courses Lauren would create on the fly.
I had an inkling that JJ might try and dip out if I didn't set him up perfectly, and we hadn't done a legitimate skinny in years (I really did NOT want to hit that off-center and bang my knee on a standard going over) but – once again – my little Paint horse with a heart of gold impressed me by doing his job like a true professional.
Even if we scrambled over something, all I had to do was point him in the general direction of the next thing and say 'yep, that' and he responded by saying "no problem, mom. I got this, see you on the other side!"
No matter what Lauren challenged us with, JJ was right there for me and did his job like an old pro. LOVE. HIM. ♥
---
LESSON LEARNED
If you push yourself hard in training, the questions at an event will be that much easier.