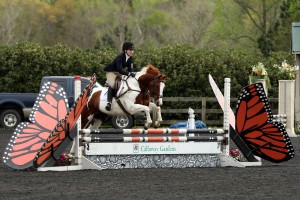 Poplar Place Farm and I have recently become frienemies. I love the facility itself, head trainer Werner Geven and his wife Marjolein are amazing people, and Kris the Sugar Cube Lady is wonderful. However, I've had not one but two falls in stadium there (and one near miss) recently, and I've definitely got some residual nerves as a result.
My trainer, Halliea, and I trailered down to Poplar on Friday morning for day 1 of the 3-day event. We unloaded, immediately started braiding, and then saddled up for our dressage rides that afternoon. The show itself was HUGE – the biggest event I have attended so far – and I was expecting JJ to be a little fired up. Surprisingly, he wasn't. Instead, he was super calm, relaxed, and responsive. We had a short warm up since he was being so good, and cruised on into the arena to run through Beginner Novice Test A to start our Beginner Novice Rider division.
I felt like we were going to throw down a really decent score as we trotted in at A and proceeded down the center line. JJ's gait was lovely, he was bending nicely, he was on the bit, and I was not screwing things up (mostly). Then came the medium/free/medium walks… he's learned the tests by now, knows what comes next, and has started to get a bit anxious.
There was bracing. There was jigging. There was "oh well, so much for a flawless test" thinking. But then, then there was more gloriousness once we stared trotting again. So much so that when I prepped him for a 20-meter trot circle at E, JJ's thought process went something like this: "Hey mom! Look how balanced and light I am! Look at how well I'm using my hind end and how I can rock this self-carriage thing! Let me canter for you!" and it was freakin' SPECTACULAR. Seriously, it was the best canter transition I've ever had with him.
I was amazed, I was impressed, I was thrilled… and then I had to immediately tell him "No, please don't do that" – which almost broke my heart to have to so negatively respond to his willingness – because he had cantered when we were supposed to be trotting. I couldn't help but laugh, though, because he really WAS trying to be good and give me what he thought I would like. We finished the test with no other incidents, and wound up scoring a 38.40 and were 13th of 18 – pretty impressive considering the accidental canter and crappy walks!
For day two, we had stadium jumping with a start time of 4pm. That meant I got to spend the entire day sitting around getting nervous, and I definitely didn't waste that opportunity. ;) I've had bad luck in stadium lately, and I just couldn't help but be nervous. I tried to keep busy to distract myself with other stuff, but eventually sat down to watch the Novice group go so that I could learn my course and plan my lines.
There was a group of catty girls sitting in front of me making nasty remarks about riders who were having trouble (side note: Please don't be those girls. If you see someone struggling, either don't say anything, or be encouraging and supportive. Stay classy.) and it didn't help my nerves. Plus, watching those riders have trouble *really* didn't help, and I noticed my heart rate rapidly rising.
After I felt like I'd seen enough (and knew the course), I consciously removed myself from the negative environment. I went back to my stall, hung out with JJ a little, set the alarm on my phone for when I needed to start getting ready, and decided to take a nap. This is my go-to game plan for nerves: I can't notice that I'm freaked out if I'm asleep!
After a refreshing nap, it was time for us to head down. I tacked up, told JJ "Hey buddy, this is all you have to do today. Please jump all the things," and went on down to warm-up. We jumped a few jumps, had a near-miss when someone cut across our path to the practice oxer, and I decided that that was actually a good thing as it forced JJ to listen to me for direction. He was focused, and I had a teensy bit of confidence. Into the main arena we went!
The course started with a big, bold, butterfly jump – very fitting considering the gigantic butterflies I had in my stomach! We cleared it effortlessly, and the rest of the course flowed unexpectedly well. JJ listened, and it was strangely EASY. No issues, no questions, no stops. One minute and 30-something seconds later, we had gone double clear and I had no more reason to be nervous! Thank you, JJ!! The day's scores were posted, and we had moved up into a tie for 9th!
On Sunday, our third and final day, we got up before sunrise to feed and prep for the cross country portion of the event. I had an 8:58am ride time, so there wasn't a whole lot of time to sit around, which I liked. Truth be told, I wasn't really anxious about cross country at all. JJ's been in beast mode out there lately, and I knew if I could just hang on and point him in the right direction, we'd be set.
The weekend had been wet, and the footing was a little slippery. We warmed up a little, jumped a cross-rail, then hit a vertical and JJ stumbled on the back side. My trainer and I decided we should go in on that in hopes that he wouldn't be too bold due to the bobble. We got the count down from the starter, and away we went!
Our first two jumps were great, but after number two, JJ wanted to go to the right. I told him "No, left," and he said "OKAY!" a little too eagerly. Suddenly, his hind end disappeared – he slipped while making the turn, and practically sat down in the grass. Somehow, my handy boy righted himself, I stayed on, and he was much more willing to listen to me after that! Ha!
We ran the rest of the course with no other slips, and had a fairly appropriate pace (ie: not our typical flat-out gallop). We wound up finishing 11 seconds under optimum time with no refusals or run outs for another double clear round!
Later, the final scores were announced and JJ and I had finished 7th in a huge group of 18 riders! I was so thrilled to have moved up so significantly from our initial place. We didn't score a ribbon, but our score itself was still good enough to act as a second qualifying score for our USEA Bronze & Silver Medals! Yay!!
Additionally, my trainer and I participated in the Area III USEA Adult Team Challenge program and we both wound up with beautiful 6th place ribbons on behalf of our team's efforts. :)
---
LESSON LEARNED
If you find yourself getting nervous, remove yourself from that situation and refocus your attention on something positive or productive – whether that's hanging out with your horse, taking a nap, or something else entirely – and you'll be a lot better off!
---
RESULTS
Date: March 25-27, 2016
Location: Poplar Place Farm in Hamilton, GA
Division: Beginner Novice 3-Phase
Type: USEA Recognized Event
Final Score: 38.40
Result: 7th